Contact Shirley 07933 326 157
Fees
Individuals £55.00
Couples £65.00
Trainee Counselling Students £45.00 Assessment £55.00 follow on sessions
Qualifications
Leicester Polytechnic – Degree BA (Hons) Public Administration (1984)
Chichester College – Introduction to Counselling Skills (2002)
Chichester College – AS Psychology (2003)
Chichester College – Certificate in Counselling Skills (2004)
University of Chichester – Diploma Humanistic Counselling (2006)
University of Chichester – Degree BA (Hons) Humanistic Counselling (2008)
Chichester Counselling Service – Certificate Couple Counselling (2014)
Chichester Counselling Service – Diploma Couple Counselling (2015)
OCST4 – Certificate in Online Counselling for Audio & Webcam (2020)
Counselling Tutor – Certificate in Online & Telephone Counselling (2020)
Couples Specific CPD
Dynamics for Working with Aggression – Susanna Abse
What to Women & Men Want Today in Intimate Relationships – Orbach & Eichenbaum
Working With Infidelity in Couples – Susanna Abse
Intimacy & Sexulality 2 Day Symposium – Sanderson, Adshead, Motz & Neves
Attachment MBT & Toxic Couple Relationships – Adshead & Byrne
Introduction to IMAGO Therapy Part 1 & Part 2 – Dr Kalanit Ben-Ari
Introduction to Gottman Principles (Level 1) Ongoing – Dr WIlliam Bumberry
How to Map a Couple's Relationship using TA – Jennie Miller
ACT (Acceptance & Commitment Therapy) Training (2016 – ongoing)
ACT – Getting Started with ACT – Lucy Dorey
ACT – Understanding ACT – Professor Sue Clarke
ACT – Acceptance & Mindfulness for CBT & Psychological Therapists – Dr Joe Oliver
ACT –  Clinical Skills Building Workshop – Steven Hayes
ACT – Matrix – 6 Steps to Flexibility workshop – Benjamin Schoendorff
ACT – For Depression & Anxiety – Dr Russ Harris
ACT – ACT with Compassion; using ACT for shame & self-criticism – Jason Luoma & Jenna Le Jeune
ACT – Mastering ACT – Dr Robyn Walser
ACT – For Trauma – Dr Russ Harris
ACT – For Grief – Dr Ray Owen
ACT – Telehealth for ACT – Dr Russ Harris & Dr Joe Oliver
ACT – Using Metaphor in ACT – Dr Niklas Torneke
ACT – Building Blocks to Self-Compassion – Dr Russ Harris
ACT – The Therapy Relationship in ACT – Dr Kelly Wilson
ACT – The Art and Science of Defusiobn – Dr Elizabeth Burnside
ACT – Mindfulness & Acceptance for Self-Esteem – Dr Joe Oliver & Dr Richard Bennett
RFT (Relational Frame Theory) Training
RFT – Relational Frame Theory (RFT) Made Simple – Dr Joe Oliver & Dr Richard Bennett
RFT – Mastering the Clinical Conversation (Relational Frame Theory) – Dr Matthieu Villatte
RFT – Enhancing You ACT practice with Relational Frame Therory – Dr Yvonne Barnes-Holmes
CFT (Compassion Focused Therapy) Training
CFT – Introduction to Compassion Focused Therapy (CFT) – Dr Paul Gilbert
CFT – Advanced Clinical Skills Workshop (CFT) – Dr Paul Gilbert
CFT – Working Compassionately with Anger – Proff Russell Kolts
CFT – Role Taking in CFT – Kate Lucre
CFT – Deepening Knowledge & Skills (Intermediate) – Dr Chris Irons
CHAIRWORK
Compassion Focused Chairwork & Digital Applications online – Dr Tobyn Bell & Dr Alison Dixon
Chairwork Beyond the Basics Intensive course – Dr Matt Pugh & Dr Tobyn Bell
Other significant training
Diploma in (NLP) Neuro Linguistic Programming (INLPTA) (2004)
Applied Suicide Intervention Skills Training (ASIST)  (2006)
Working with Addiction – Sussex Alcohol & Substance use Service (SASS) (2007)
CBT Bootcamp, Core Clinical Competencies – Christine Padesky (2010)
Foundation in CBT (CBT with Heart) – Hemmings Field Associates (2011)
Cert. Introduction to Trauma Therapy – Wealden Institute – Attendance only (2012)
Dip. Trauma Therapy – Wealden Institute – Attendance only (2013)
Teaching Clients & Further Teaching Mindfulness Skills – Stanton & Greyrock (2014)
Therapeutic Use of Mindfulness – British Institute of Mindfulness (2015)
Rewind Technique – Tom Buckland (2016)
Work Experience
Independent Private Practice Counsellor – 2009 – Ongoing
Network Counsellor – Various EAP & Insurance Providers* – Ongoing
Telephone Helpline Counsellor – Major EAP Provider – 8 years
Counsellor – Carers Support Service, Chichester – 3 years
Student & Staff Counsellor – Southampton University – 2 years
Addiction Counsellor – SASS – 18 months
* if you would like to work with me, please check with your Insurer to see if I am listed on their Therapist Network.
Prior to becoming a Counsellor I was a Project Manager in the electronics sector for over 18 years where I gained extensive experience of working in large, complex multi-disciplined teams and gained an appreciation of the difficulties of working to tight timescales and budgets.
About Me
Thank you for visiting my page.  I am a BACP Accredited Counsellor working with Individuals and Couples.  I have been in private practice  for over 12 years (since 2009) and in 2016 set up Portsmouth Therapy Partnership as Co-Founder and Partner.  I have been working with clients for over 16 years (since 2005) and have held BACP Accreditation since 2009. I pride myself in offering a warm, respectful and professional service to Clients (Individuals and Couples) who are either experiencing difficulties in the lives or who would like to take the opportunity to undertake some Personal Development.
I am a firm believer that at the heart of our work lies the therapeutic relationship.   It is this relationship that fosters the right conditions which can enable you to attain a different perspective and which can in    turn feel empowering and liberating.   My aim as your counsellor is to offer you a safe and supportive space in which you can explore the things in life that may be causing you to struggle or feel distressed.  My work encourages self-exploration which can lead you to attain greater clarity in your life, this in turn can help you to find coping strategies and helpful resources. 
As your Counsellor my role is to be alongside you throughout your Counselling journey and to help to nurture those useful insights that can lead to growth, healing and change.  I believe that by accessing Counselling you can begin to find some of the answers that can help you to accept or move forward and hence live a more productive and balanced life.
I work with clients (Individuals and Couples) both on a Short Term (time-limited / solutions focused counselling) and Long Term (open ended) basis.
Individual Counselling
The core of my work is based on the Humanistic Counselling model in which I was trained.  I believe that everyone has the capacity to change given the right circumstances and respect everyone's uniqueness and individuality.  Into this core model I integrate a variety of approaches that are appropriate to the work we would be doing together.  This could include structured approaches such as Cognitive Behavioural Therapy (CBT), through to Mindfulness, through to creative expression using art, poetry or imagery.
What is important is to find the best way possible that works be for you, at a pace that feels comfortable for you.
During our first session (the Assessment) you will be able to tell me what brings you to counselling, we would consider how we might work together going forward and importantly you can see if you feel comfortable working with me.   If this doesn't feel right for you or it's more appropriate for you to see another counsellor or organisation we will agree not to proceed.  If we agree to work together our sessions would take place weekly which is the most effective form of counselling.
Issues I work with include:  Abuse, Anxiety, Bereavement & Loss, Depression, Stress, Trauma and Work related issues.
For more information on how we would work together please visit the FAQ page of my Website along with my Counselling Contract for Individuals.
Couple Counselling
My Couple work is based on the Systemic/Psychodynamic model of working, focusing on the relationship as being the client and how the 2 people in the relationship have an impact on that system and including how our history can impact on the way we relate in the here and now.  As your Couple Counsellor I provide a space for you to explore issues which are impacting on your relationship and to help you both to find ways to move the relationship forward.  There may however be times when as a couple you are struggling to find a way to end your relationship and Couple Counselling can be a safe place for you to do this.
I operate a flexible assessment process, if you wish to see me as a couple from the outset, all of our sessions will be with you both attending. The Initial session (Assessment) will enable you to tell me in greater detail what is happening in your relationship, and what you hope to get from the counselling.  We would decide at this point if you would like a 4 session Assessment.
If you choose to have the 4 Session Assessment you will be offered an individual session each which will focus more on your personal perspective of the relationship we would also look at your background including your previous relationships and family history.  During our final Assessment session we decide together if Couple Counselling is the best form of support for you based on what you hope to get from the Counselling (ie do you both want the relationship to go in the same direction).  Aside from the individual Assessment sessions, the counselling will take place weekly with both of you present, sessions cannot be undertake with only 1 person in attendance.
Issues I work with include: Affairs, Divorce, Separation, Communication Difficulties, Impact of Step families and Relationship ending.
For more information on how we would work together please visit the FAQ page of my Website along with my Counselling Contract for Couples.
Student/Trainee Counsellors
I have been working with Student/Trainee Counsellors since my Accreditation in 2009 and this is an area I feel passionately about.  I offer a supportive and challenging space for student/trainee counsellors to explore and engage in their self-awareness and personal growth.  I have worked with trainees counselling students from Chichester University, Guildford College, Roehampton (Play Therapy) and Peter Symonds College.  For more information on how I work with Student/Trainee Counsellors and to see what availability I have please visit the Student/Trainee Counsellor Page of my website.
Employee Assistance Programme (EAP) / Organisations
I have been working as a Network Counsellor with several national Employee Assistance Programme Providers (EAPs) since 2009 and I am experienced in offering short term (4 – 10 week) goal orientated, Solution Focused therapy and I integrate CBT based therapy as appropriate.  I also take referrals from organisations offering Post-Rehab support for clients experiencing problems with Addictions.  As part of my private practice I have also offered counselling to local organisations who wish to support the wellbeing of their employees.
Insurance Work
I am registered with AVIVA, CIGNA & NUFFIELD and can offer counselling to eligible policy holders, you may have to contact your insurance organisation in the first instance before you contact me.  If you hold insurance with another provider and would like to work with me, please contact your provider as it may be possible that I can be added to their network.
BACP
As a Registered Member (MBACP) and Accredited Counsellor I abide by and work within the BACP Code of Ethics, including the regular attendance of supervision.
CPD
I believe my own continuing personal development (CPD) enhances both my Practice and therefore my client work as well as my own development within the Counselling profession.  I feel it is essential to keep up with the current changes in the field of therapy.  My own CPD journey involves attending Supervision, networking with other Counselling Professionals, attending additional training or workshops and when appropriate undertaking my own personal therapy.
Social Media
I do not accept Social Networking friend requests as this would compromise the boundaries of our therapeutic relationship. However you are free to follow my Professional Facebook Page and Business Twitter Profile. My digital policy can be found on my website page Your Confidentiality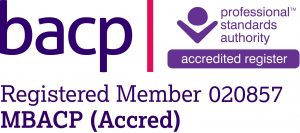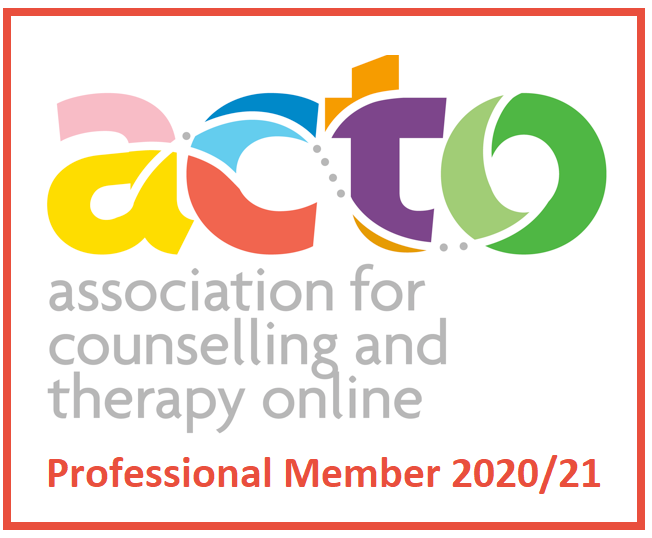 If you are unable to see me at Portsmouth Therapy Partnership, I also offer Online  Zoom Video link & Telephone sessions. For Face to Face sessions in the PO10 area please contact me directly.